Deviled Scallops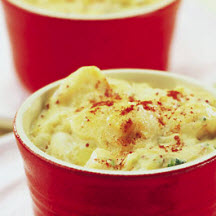 Recipe courtesy of Seafish, the UK Sea Fish Industry Authority.
Recipe Ingredients:
8 ounces scallops
1 1/4 cups milk
1 ounce (2 tablespoons) butter or margarine
2 tablespoons all-purpose flour
1 tablespoon onion, finely chopped
2 tablespoons natural yogurt
2 teaspoons Worcestershire sauce
1 teaspoon whole grain mustard
1 teaspoon fresh flat-leaf parsley, chopped
Pinch cayenne pepper
Salt and ground black pepper to taste
2 hard-boiled eggs, chopped
2 tablespoons freshly grated Parmesan cheese
Cayenne pepper to garnish

Cooking Directions:
Preheat oven to 400°F (205°C).
Place the milk and scallops into a pan. Poach gently for about 3 minutes. Strain and reserve cooking liquid. Set the scallops to one side.
Melt the butter in a pan, stir in the flour and cook for 2 minutes.
Gradually add the reserved cooking liquid and stir over a gentle heat until the sauce thickens.
Remove from the heat and stir in the remaining ingredients except the Parmesan cheese. Finally fold in the scallops.
Dust with Parmesan and bake for 15 to 20 minutes until golden brown.
Garnish with cayenne pepper before serving.
Makes 4 servings.
"From sea to plate, Seafish delivers expert knowledge, skills and support which help the UK seafood industry secure a sustainable and profitable future."
Recipe and photograph courtesy of Seafish, the UK Sea Fish Industry Authority www.seafish.org.