Fiery Peach-Glazed Alaska Salmon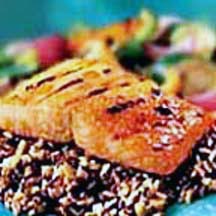 A double dash of cayenne pepper adds some spicy sass to a simple peach glaze that complements the grilled salmon steaks, bell peppers and onions. Serve with a wild rice pilaf.
Recipe Ingredients:
4 (4 to 6-ounce) Alaska salmon steaks or fillets
1/4 cup peach jam or orange marmalade
1 teaspoon soy sauce
1/4 teaspoon cayenne pepper
1/8 teaspoon ground ginger
2 large bell peppers (any color)*, seeded and thinly sliced
1 medium onion, thinly sliced
1 tablespoon vegetable oil
Cooking Directions:
Preheat broiler or grill to medium-high heat.
Place salmon on a non-stick or vegetable cooking spray-coated baking or broiler sheet.
In a small bowl, blend jam, soy sauce, cayenne pepper and ginger. Brush glaze on salmon. Place sliced vegetables on baking sheet, brushing lightly with oil and season with salt and pepper.
Grill or broil 5 to 7 inches from heat, turning vegetables once, about 10 to 12 minutes, or until salmon flakes with a fork.
Makes 4 servings.
*Zucchini, leeks and/or crookneck squash may be substituted for peppers.
Recipe and photograph courtesy of Alaska Seafood Marketing Institute.