Grilled Alaska Crab Legs with Dipping Sauce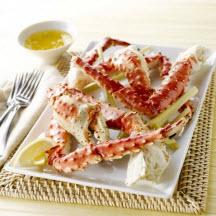 The ultimate seafood feast with three yummy dipping sauces to pick and choose from—or better yet, serve all three!
Recipe Ingredients:
3 to 4 pounds King, Snow or Dungeness crab legs, cooked
2 tablespoons olive oil
Butter Sauce:
1/2 cup unsalted butter, melted
1 tablespoon lemon juice
3/4 teaspoon garlic salt
1/2 teaspoon dill weed
1/8 teaspoon white pepper
Red Sauce:
1/2 cup bottled chili sauce
1 teaspoon prepared horseradish
1 teaspoon rice vinegar
Verde Sauce:
1 medium avocado, peeled, pitted and mashed
1/3 cup low-fat sour cream
2 teaspoons cumin
2 teaspoons lime juice
1/4 teaspoon hot pepper sauce
Cooking Directions:
Prepare one or more dipping sauces. In separate small bowls, combine ingredients for each sauce. Stir to blend.
Heat grill.
Brush both sides of crab legs with olive oil and place on hot grill 5 to 6 inches from coals. Heat 4 to 5 minutes, turning once.
Transfer crab to plates and serve with dipping sauces.
Makes 2 servings. (Increase servings as desired.)
Recipe and photograph courtesy of Alaska Seafood Marketing Institute.