Grilled Alaska Snow Crab with Salsa Verde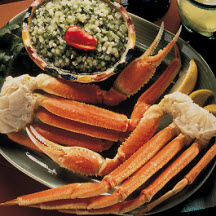 Recipe courtesy of Alaska Seafood Marketing Institute.
Recipe Ingredients:
1 large cucumber, peeled, seeded and coarsely chopped
1/4 cup chopped green bell pepper
1 tablespoon sliced green onion
1 tablespoon lemon juice
1 1/2 teaspoons olive oil
1 1/2 teaspoons chopped cilantro
1 clove garlic, chopped
1/2 jalapeño pepper, seeded and chopped (for a hotter salsa, process seeds)
Salt and ground black pepper to taste
2 to 3 pounds Alaska Snow crab clusters, thawed if necessary
Cooking Directions:
Combine all ingredients except salt, pepper and Alaska Snow crab in a food processor or blender and process briefly until finely chopped. Season to taste with salt and pepper.
Meanwhile, place crab on an oiled grill 5-inches from the coals. Grill about 5 minutes or until thoroughly heated. Serve immediately, using salsa verde as a dipping sauce.
Makes 4 servings.
Recipe and photograph courtesy of Alaska Seafood Marketing Institute.