Grilled Herb-Crusted Swordfish with Lemon Butter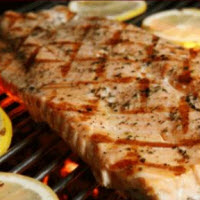 Swordfish is great for the grill, since it's firm and meaty. Here it's dressed in herbs of your choice — take it in a French direction with lavender and thyme, Mexican with cilantro and lime, or Greek with mint and oregano, as suggested in the recipe.
Recipe Ingredients:
1/2 cup butter, slightly softened
2 tablespoons fresh-squeezed lemon juice
2 teaspoons finely grated lemon peel
1/8 teaspoon cracked black peppercorns, or to taste
1 1/2 cups chopped fresh herbs, such as oregano, mint, etc.
1/3 cup olive oil
4 (6-ounce) swordfish steaks, skin and any black meat removed
1/2 teaspoon salt
Cooking Directions:
Combine butter, lemon juice, lemon peel and cracked peppercorns in a small mixing bowl; set aside.
Mix the herbs and oil together in a small bowl; press on as much as will stick to the fish. Cover and refrigerate steaks in their herb crusts for at least 1/2 hour and as long as 3 hours.
Preheat a grill or broiler and broiler pan.
Right before cooking, oil the grill or broiler pan. Season fish with salt, then lay swordfish steaks on grill or broiler pan. Cook for 3 to 5 minutes each side or until firm and opaque; remove to warm plates. Top each steak with 1 tablespoon of the lemon butter; serve the remaining lemon butter to add as desired.
Makes 4 servings.