Grilled Maine Lobster Quesadilla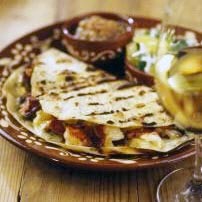 Whole lobster grilled and dressed with lime, chiles and cilantro butter. Wrapped in a tortilla with melted Teleme and Jack cheeses and served with roasted tomato and serrano salsa.
Recipe Ingredients:
Jicama Salad:
2 oranges, cut into supremes
1 cup jicama bâtonnets
1 tablespoon cilantro, chopped
To taste lime juice
To taste salt and ground black pepper
Roasted Tomato-Serrano Salsa:
1 1/2 pounds ripe tomatoes, medium-large
1 1/2 tablespoons vegetable oil
1 white onion, small, thinly sliced
1 serrano chile, chopped
3 tablespoons lime juice, more to taste
2 tablespoons cilantro, chopped
1/2 teaspoon salt
Jalapeño-Cilantro Butter:
1 cup cilantro leaves, loosely packed
1/2 cup butter at room temperature
1 tablespoon lemon juice
1 teaspoon lemon zest, finely chopped
2 cloves garlic, minced
2 jalapeño peppers, roasted, peeled, seeded, and diced
1 teaspoon salt
1/4 teaspoon ground black pepper
2 cups Teleme cheese
2 cups jack cheese, grated
1/2 cup green onion, finely chopped
2 tablespoons cilantro
6 quarts water
1 tablespoon salt
4 (1 pound each) Maine lobsters
8 flour tortillas
Cooking Directions:
For the Jicama Salad: Combine the oranges, jicama, and cilantro. Season to taste with lime juice, salt, and pepper.
For the Roasted Tomato-Serrano Salsa: Roasting the tomatoes on a griddle: Line a griddle or heavy skillet with aluminum foil and heat over medium heat. Lay the tomatoes on the foil and roast, turning several times, until blistered, blackened, and softened, about 10 minutes.
Roasting the tomatoes in a broiler: Lay the tomatoes on a baking sheet and place about 4-inches below a very hot broiler. Roast until blistered and blackened on one side. Flip the tomatoes and roast the other side. Cool and peel, collecting any juices with the tomatoes. Coarsely purée tomatoes and juices in a food processor or blender.
In a medium-size saucepan, heat the oil over medium heat. Add the onion and fry until deep golden, about 8 minutes.
Add the tomatoes and chopped chile and simmer 15 minutes or so, stirring often, until reduced but not dry. Season to taste with lime juice, cilantro, and salt.
For the Jalapeño-Cilantro Butter: Lightly chop the cilantro. Combine with the butter, lemon juice, lemon zest, garlic, and jalapeños. Season with salt and pepper.
For the Quesadilla: Combine the cheeses, green onion, and cilantro. Set aside.
In a very large stock pot, over high heat, bring 6 quarts water to a boil and add one-tablespoon salt.
Add the lobsters to the boiling water and blanch for 2 minutes. Remove the lobsters; drain and cool.
Remove the claws and pull the meat from the shell, cut through the head and tail lengthwise and pull out the tail meat in 2 whole pieces. Season the tail and claw meat with salt and pepper and set aside.
Preheat the grill to medium hot. Rub the lobster meat with the compound butter; do not leave too much excess or it will burn when cooking. Let sit for 30 minutes in refrigerator. When ready to cook, place the cut sides of the lobster facing down on the grill and cook until lightly browned, 2 to 3 minutes. Turn over and cook for one more minute or until the lobster meat is opaque, about 3 minutes. Slice the lobster pieces into medallions and keep warm.
To make the quesadilla, brush the outside of the tortilla with butter. Place buttered side down on a flat griddle.
Spread 1/2 cup of cheese on half the tortilla, top with the grilled lobster. Fold the empty side on top of the cheese-covered side and griddle until golden brown.
Flip the quesadilla over and griddle on the other side. Remove from heat, let sit 1 minute, then cut into wedges.
Serve with roasted tomato-serrano salsa and the jicama salad.
Makes 8 servings.
Recipe and photograph provided courtesy of Maine Lobster Promotion Council.