Grilled Salmon Topped with Mango Salsa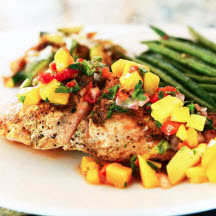 Grilled salmon is perfectly paired with a cool and refreshing mango salsa.
Recipe Ingredients:
Salt and ground black pepper to taste
2 to 4 (8-ounce) salmon fillets
Mango Salsa:
1/2 cup red onions, diced (1/4x1/4-inch)
1 cup ripe mango, diced (1/4x1/4-inch)
1/4 cup red bell peppers, diced (1/8x1/8-inch)
2 tablespoons Thai sweet chili sauce
Cooking Directions:
For Salmon: Lightly season the salmon fillets and grill to medium. Top each fillet with desired amount of mango salsa. Serve and enjoy.
For Mango Salsa: Peel and dice red onion, mango and peppers. Place all ingredients into a mixing bowl and toss to coat evenly.
Spoon ingredients into aluminum foil and gather the foil at the top to create a pouch. Place foil on the grill while grilling the fillets.
Carefully remove foil from the grill with a pair of tongs, as it will be hot. Carefully open the foil with a sharp knife; take care, as hot steam will escape then foil pouch when opened. Use while warm by spooning dollops over salmon fillets.
Makes 2 to 4 servings.
Tip: Seafood is delicate and it doesn't take long to overcook. Keep a food thermometer handy and pull your fish off the grill when it reaches 130°F (54.4°C) to 135°F (57.2°C).
Recipe and photograph provided by Bonefish Grill via Brandpoint Content; Copyright 1996-2014.