Grilled Scallop Skewers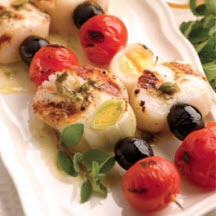 Recipe courtesy of California Ripe Olives.
Recipe Ingredients:
1/4 cup lemon juice
2 tablespoons chopped basil
1 tablespoon extra virgin olive oil
1 teaspoon Dijon mustard
1 teaspoon chopped capers
2 dozen California Ripe Olives, whole
2 dozen cherry tomatoes
6 ounces leeks, washed*, cut into 16 (1/2-inch) discs and blanched (onion may substituted if desired)
16 medium sized sea scallops (approximately 1pound)
Salt and ground black pepper to taste
8 (12-inch) wooden skewers, soaked in warm water
Cooking Directions:
In a small bowl, whisk together lemon juice, basil, olive oil, mustard and capers. Remove 1/4 cup of dressing, cover and set aside in the refrigerator.
String each skewer with a California Ripe Olive, cherry tomato, leek and scallop. Repeat pattern, finishing with one additional California Ripe Olive and cherry tomato.
Brush with remaining lemon marinade, season with salt and pepper to taste and grill over a medium-high heat for 2 to 3 minutes on each side until slightly charred.
Transfer cooked skewers onto a clean plate and drizzle with reserved lemon dressing.
Makes 4 servings.
*To Wash Leeks: Slice off dark green portion and root end of leeks and discard. Using the tip of a knife, slice vertically (halfway through) to the center of the remaining light greenish white portion to expose inner layers, while keeping intact. Place under cold running water to remove dirt.
Nutritional Information Per Serving (1/4 of recipe): Calories: 228; Calories From Fat: 72; Total Fat: 8g; Cholesterol: 38mg; Total Carbs: 17g; Protein: 21g; Sodium: 544mg.
Recipe and photograph courtesy of California Ripe Olives.