Hazelnut Stuffed Sole with Oranges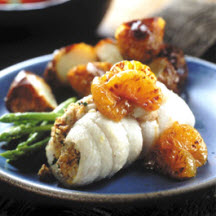 Recipe courtesy of Seafish, the UK Sea Fish Industry Authority.
Recipe Ingredients:
4 (6-ounce) sole fillets (fresh or defrosted)
2 tablespoons butter
1/2 small onion, finely chopped
2 tablespoons hazelnuts, ground
2 tablespoons dry bread crumbs
1 tablespoon fresh flat-leaf parsley, chopped
Juice and zest of 1/2 lemon
1 (10.5-ounce) can mandarin orange slices
Salt and ground black pepper to taste
Cooking Directions:
Preheat oven to 350°F (175°C).
Melt butter in a small pan. Add onion and cook 2 to 3 minutes, until softened. Stir in hazelnuts, bread crumbs, parsley, lemon zest and juice. Season with salt and pepper.
Lay fish on a board, skinned side up and place a spoonful of the stuffing onto each fillet about 1-inch away from the tail. Wrap the tail end over the stuffing and roll up each fillet. Place in a baking dish. Top with mandarin orange segments and bake uncovered for 20 minutes.
Serve with new potatoes and baby vegetables, if desired.
Makes 4 servings.
Nutritional Information Per Serving (1/4 of recipe): Calories: 293; Total Fat: 11g; Saturated Fat: 4g; Cholesterol: 97mg; Total Carbs: 15g; Fiber: 3g; Protein: 34g; Sodium: 228mg.
"From sea to plate, Seafish delivers expert knowledge, skills and support which help the UK seafood industry secure a sustainable and profitable future."
Recipe and photograph courtesy of Seafish, the UK Sea Fish Industry Authority www.seafish.org.