Mussel and Saffron Pilaf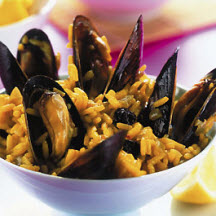 Recipe courtesy of Seafish, the UK Sea Fish Industry Authority.
Recipe Ingredients:
1 large pinch saffron threads
2 tablespoons olive oil
1 small onion, peeled and finely chopped
1 clove garlic, finely chopped
1/2 cup long grain rice
1 1/4 cup vegetable or fish stock
1 bay leaf
1 pound fresh mussels, cleaned and de-bearded
Salt and ground black pepper to taste
2 tablespoons dried currants or sultanas
Lemon wedges to garnish
Cooking Directions:
Preheat oven to 400°F (205°C).
Soak the saffron threads in 3 tablespoons boiling water for 15 minutes.
Heat the oil in an flame-proof casserole dish and add the onion and garlic. Cook until soft. Stir in the rice. Add the stock, saffron with liquid and bay leaf. Season and bring to the boil. Cook in the oven for 15 to 20 minutes.
Add the mussels, cover and return to the oven. Cook for a further 10 minutes until the mussels are opened (discard any that remain closed after cooking).
Stir in the dried currants or sultanas, season with salt and pepper to taste. Garnish with lemon wedges and serve.
Makes 2 servings.
"From sea to plate, Seafish delivers expert knowledge, skills and support which help the UK seafood industry secure a sustainable and profitable future."
Recipe and photograph courtesy of Seafish, the UK Sea Fish Industry Authority www.seafish.org.