Mussels with Greens and Blue Cheese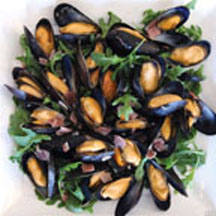 This is a simple, yet elegant meal. Mussels are low in saturated fat while providing a great source of protein, minerals and omega-3s. In addition, mussels are a dietary antioxidant and a good source of vitamin C.
Recipe Ingredients:
5 pounds blue cultured mussels
2 tablespoons olive oil
1/2 pound pancetta, prosciutto or bacon, diced
2 shallots, minced
1 cup white wine
Juice and zest of 1 lemon
1 cup creamy blue cheese
Large handful arugula, spinach or watercress
Sea salt and pepper to taste
Crusty bread for accompaniment
Cooking Directions:
Stir the fresh blue mussels in a colander while rinsing in tap water. Set aside for a few minutes. Tap any that are open and discard those that don't close in response to the tap.
Heat oil in a large pan over medium-high heat. Add pancetta, prosciutto or bacon and cook, stirring occasionally, until crispy. Add shallot and cook, stirring, for two to three minutes more. Add wine, lemon juice and blue cheese. Stir briefly, then add mussels.
Cover and leave to steam for five to seven minutes, or until mussels are open. Discard any mussels that do not open.
Toss in greens and salt and pepper to taste. Transfer to a serving platter and garnish with lemon zest.
Serve with slices of crusty bread.
Makes 4 to 6 servings.
Nutritional Analysis Per Serving (1/4 of recipe): Calories: 380, Fat: 7 g, Saturated Fat: 2.5 g, Trans Fat: 0 g, Cholesterol: 80 mg, Sodium: 680 mg, Potassium: 507 mg, Carbohydrates: 40 g, Fiber: 2 g, Sugar: 3 g, Protein: 32 g, Vitamin A: 20 percent, Vitamin C: 60 percent, Calcium: 6 percent, Iron: 20 percent.
Recipe and photograph provided courtesy of www.discovermussels.com; through ARAcontent.