North African-Style Alaska Salmon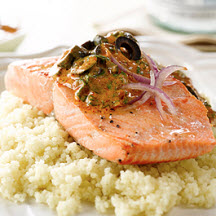 Recipe courtesy of Alaska Seafood Marketing Institute.
Recipe Ingredients:
1 (4-ounce) can sliced ripe olives, drained
3/4 cup low-fat plain yogurt
1/2 cup chopped parsley
1/4 cup chopped cilantro
3 tablespoons fresh lemon juice
2 tablespoons olive oil
1 tablespoon minced garlic
2 teaspoons paprika
1 teaspoon ground cumin
1 teaspoon turmeric
1/2 teaspoon salt
1/4 teaspoon red pepper flakes
4 Alaska Salmon steaks or fillets (4 to 6 ounces each), fresh, thawed or frozen
1 1/2 tablespoons olive, canola, peanut or grapeseed oil
1 teaspoon lemon pepper seasoning
2 tablespoons slivered red onion
Cooking Directions:
Reserve 2 tablespoons olives. Blend remaining olives, yogurt, parsley, cilantro, lemon juice, olive oil, garlic, paprika, cumin, turmeric, salt, and pepper flakes; set aside.
Rinse any ice glaze from frozen Alaska Salmon under cold water; pat dry with paper towel.
Heat a heavy nonstick skillet over medium-high heat.
Brush both sides of salmon with oil. Place salmon in heated skillet and cook, uncovered, about 3 to 4 minutes, until browned. Shake pan occasionally to keep fish from sticking.
Turn salmon over and sprinkle with lemon pepper. Cover pan tightly and reduce heat to medium. Cook an additional 6 to 8 minutes for frozen salmon or 3 to 4 minutes for fresh/thawed fish. Cook just until fish is opaque throughout.
To serve, spoon a dollop of sauce over each salmon portion; sprinkle on reserved olives and slivered onion.
Makes 4 servings.
Nutritional Information Per Serving (1/4 of recipe): Calories: 333; Total Fat: 18g; Saturated Fat: 3g; Cholesterol: 108mg; Total Carbs: 9g; Fiber: 2g; Protein: 32g; Sodium: 810mg.
Recipe and photograph courtesy of Alaska Seafood Marketing Institute.