Pan-Fried Salmon with
California Pistachio and Green Bean Salsa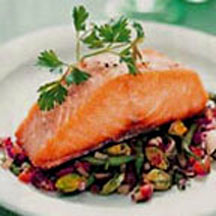 The pistachio and green bean salsa sets off the salmon perfectly. To make it hotter, just add another chile!
Recipe Ingredients:
Salsa:
2 tablespoons olive oil
1 clove garlic, finely chopped
1 small red onion, finely diced
1 red pepper, seeded and finely diced
1 green chile, seeded and finely chopped
3 1/2 ounces unsalted, shelled California Pistachios, chopped
7 ounces green beans, halved
Salt and freshly ground black pepper
3 tablespoons fresh parsley, finely chopped
Salmon:
4 salmon fillets, (6 ounces each)
Salt and freshly ground black pepper, to taste
1 tablespoon olive oil
1 lime, cut into wedges for accompaniment
Cooking Directions:
To make the salsa, heat the oil in a frying pan and stir in the garlic, onion, red pepper, chile and nuts and cook over a low heat. Meanwhile, cook the beans in boiling water for 3 to 4 minutes, drain and add to the salsa with the seasoning. Stir in the parsley.
Wash and wipe the salmon fillets with kitchen paper, season with salt and pepper. Heat the oil in a frying pan over a medium heat and cook the salmon for 4 minutes. Turn and cook for a further 4 minutes, until just cooked through. Serve the salmon with the salsa and a squeeze of the lime.
Makes 4 servings.
Recipe and photograph provided courtesy of the California Pistachio Commission.