Poached Salmon with Mustard-Dill Sauce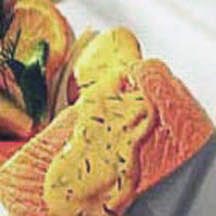 Poaching fish in milk ensures a moist, succulent result. The addition of Dijon mustard, fresh dill and sour cream turns the flavorful poaching liquid into a simple, light sauce.
Recipe Ingredients:
1 teaspoon olive oil
2 tablespoons finely chopped shallots
1 1/2 cups milk
1/2 teaspoon salt
1/4 teaspoon ground black pepper
4 (5-ounce) skin-on salmon fillets
1 tablespoon fresh lemon juice
1 1/2 teaspoons cornstarch
1/4 cup sour cream
2 tablespoons chopped fresh dill
2 tablespoons Dijon mustard
1 lemon, cut into wedges
4 dill sprigs
Cooking Directions:
In a 10-inch skillet or sauté pan, heat oil over medium heat. Add shallots and sauté until softened, 30 to 60 seconds. Add milk, shallots, salt and pepper; bring to simmer, stirring. Reduce heat to low.
Slip in salmon pieces, skin-side up; immediately turn over. Cover and poach gently, spooning cooking liquid over top of salmon occasionally, just until interior is opaque, 10 to 12 minutes.
With a slotted spoon, carefully transfer salmon to a warm platter. Cover and keep warm. In a small bowl, mix lemon juice and cornstarch; add to poaching liquid and cook, stirring constantly, until slightly thickened, about 1 minute. Stir in sour cream, chopped dill and mustard. Garnish salmon with lemon wedges and dill sprigs. Serve with the mustard-dill sauce.
Makes 4 servings.
Recipe and photograph provided courtesy of National Dairy Council.