Salmon with Hot Crab Hash and Corn
Topped with Alpine Cheese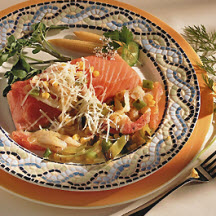 Recipe by Chef Kevin Cullen.
Recipe Ingredients:
4 (6-ounce) salmon fillets
1/4 cup canola oil
8 ounces crabmeat, shredded
1/2 cup yellow cornmeal
6 ounces (about 2) poblano pepper chiles, roasted and chopped
2 jalapeño chiles, minced
3/4 cup cooked sweet corn (preferably roasted)
1 cup (4 ounces) shredded Wisconsin Alpine-style cheese
Worcestershire sauce, to taste
Salt, to taste
Cooking Directions:
Cook salmon as desired. Set aside.
For Hash: In sauté pan, heat canola oil. Dust crabmeat with cornmeal; sauté in oil until crisp.
Add poblano and jalapeño chiles, corn, Worcestershire sauce and salt; cook until softened.
Spoon hash over salmon and top with alpine; broil until cheese melts.
Makes 4 servings.
Recipe and photograph courtesy of Wisconsin Milk Marketing Board.