Salmon with Orange Citrus Onions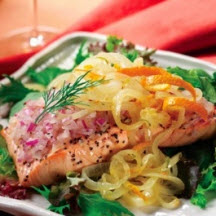 Recipe courtesy of the National Onion Association.
Recipe Ingredients:
4 (5-ounce) fresh salmon fillets
Salt and ground black pepper to taste
1/2 cup finely chopped red onion
1/2 cup dry white wine or 1/4 cup each lemon juice and water
3 medium yellow onions, sliced
3 tablespoons olive oil
2 teaspoons orange peel, grated
1 teaspoon lime peel, grated
3/4 cup orange juice
1-quart mixed dark leafy salad greens
Fresh dill sprigs
Cooking Directions:
Sprinkle salmon with salt and pepper. Divide red onion between salmon fillets and press on evenly with back of spoon.
Pour wine into 10-inch skillet and heat until it bubbles at the edges. Set salmon in wine, cover and return liquid to a gentle boil. Let cook gently without turning for 6 or 7 minutes or until salmon is just cooked through and topping is rosy. You can check if done by poking the tip of a sharp knife into the thickest part of one fillet and check that inside color has paled.
Chill fish and liquid.
Heat oil in a large skillet. Add yellow onions and cook over medium heat, stirring often, until they are soft and sweet. Remove from heat and mix in orange and lime peels and orange juice. Cover and chill.
To Serve: Place lettuce onto 4 plates. Top with salmon fillets. Lift onions from liquid with slotted spoon or fork and top salmon. Spoon juice from onions over salmon and lettuce. Garnish with dill.
Makes 4 servings.
*If salmon fillets have skin on them, purchase 4 (6-ounce) fillets and pull off skin.
Nutritional Information Per Serving (1/4 of recipe): Calories: 339; Total Fat: 15g; Cholesterol: 74mg; Total Carbs: 15g; Fiber: 3g; Protein: 30g; Sodium: 104mg.
Recipe and photograph courtesy of the National Onion Association.