Shrimp and Pineapple Fried Rice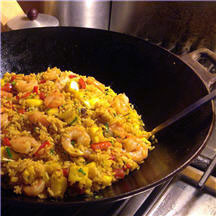 Weekday quick, weekend easy, delicious any day! The use of fresh pineapple makes this shrimp and pineapple fried rice dish a winner your family will love.
Recipe Ingredients:
1 fresh pineapple*
1/2 cup coarsely chopped green bell pepper
3 medium green onions, thinly sliced on the diagonal
3 tablespoons soy sauce
1 1/2 teaspoons granulated sugar
1 teaspoon Thai fish sauce**
1/2 teaspoon ground turmeric
1/4 teaspoon freshly ground black pepper, or to taste
1 tablespoon water
2 tablespoons coconut, peanut or vegetable oil - divided use
1 pound small shrimp, shelled and de-veined
2 to 3 cloves garlic, finely minced
5 cups cold cooked rice***
1/4 cup chopped fresh cilantro
Cooking Directions:
With a sharp knife, carefully cut the top and bottom off the pineapple. Remove the shell, cutting enough (cut sides from the top to bottom) to just remove the "eyes". Cut pineapple in quarters and remove the core. Cut enough pineapple into 1/2-inch pieces to measure 1 1/2 cups. Set aside. (Serve the remaining pineapple as an accompaniment with the meal.)
In a medium bowl combine the pineapple pieces, chopped bell pepper and sliced green onions. Set aside.
In another small bowl, whisk together the soy sauce, sugar, fish sauce, turmeric, black pepper and water. Set aside.
In a wok or large skillet heat 1 tablespoon of the oil over medium-high heat until it is hot, and stir-fry the shrimp for 1 1/2 minutes, or until they turn pink and are just firm (do not over cook); transfer to a bowl.
Heat the remaining oil over medium-high heat the same as above and stir-fry the garlic for 3 seconds.
Add the rice and stir-fry the mixture for 1 minute, or until the rice is hot.
Add the soy mixture and stir-fry the mixture for 1 minute.
Add the pineapple mixture and the shrimp with any accumulated juices, stir-fry for another minute, or until heated through.
Remove from heat and stir in the cilantro and serve.
Makes 4 to 6 servings.
*Or substitute with 1 (20-ounce) can pineapple chunks or tidbits, drained.
**Thai fish sauce can be found in the Asian specialty section of most major grocery stores.
***Plan ahead, when cooking rice as an accompaniment for another dish, cook enough rice so you'll conveniently have "cold cooked rice" to make a "fried rice dish" for another meal.
Nutritional Information Per Serving (1/4 of recipe): 477.0 calories; 16% calories from fat; 8.9g total fat; 207.2mg cholesterol; 810.7mg sodium; 450.9mg potassium; 68.3g carbohydrates; 2.5g fiber; 8.0g sugar; 65.8g net carbs; 29.2g protein.
Photograph courtesy of Sue Ramaley; Recipe copyright © 1999; property of CooksRecipes.com. See Terms of Use.