Smoked Salmon, Olive and Herb Tartine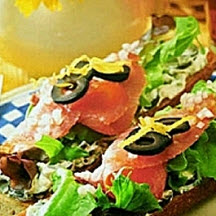 Recipe courtesy of California Ripe Olives.
Recipe Ingredients:
1 (8-ounce) French baguette
6 ounces cream cheese, softened
1 1/2 tablespoons lemon juice
1 1/2 cups black ripe olives, sliced
3 tablespoons chives, minced
2 tablespoons tarragon, minced
2 cups mixed baby lettuce
8 ounces smoked salmon
2 shallots, minced
1 tablespoon lemon zest
Cooking Directions:
Slice baguette in half and toast in a 400°F (205°C) oven for 5 minutes until golden. Cut each half into 4 equal sized pieces and set aside.
Using the paddle attachment, beat cream cheese and lemon juice in the bowl of an electric mixer for 3 to 4 minutes, scraping down the sides periodically, until aerated.
Fold 1 1/4 cup of the California Ripe Olives, chives and tarragon into cream cheese mixture.
Assemble tartines by spreading 1/3 cup of olive cream cheese onto each baguette. Top with 1/4 cup lettuce and 1 ounce of smoked salmon. Garnish the tops with shallots, remaining olives and lemon zest. Serve two slices per person.
Makes 4 servings.
Recipe and photograph courtesy of California Ripe Olives.