Thai Crab Cakes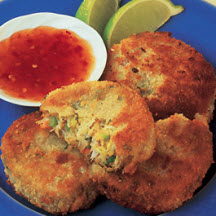 Recipe courtesy of Seafish, the UK Sea Fish Industry Authority.
Recipe Ingredients:
12 ounces mixed crabmeat
1 tablespoon butter or margarine
1 tablespoon all-purpose flour
1/2 cup milk
1 tablespoon fresh chopped coriander
1 stalk lemon grass, finely chopped
1 green chile pepper, seeded and chopped
1 tablespoon grated fresh gingerroot
Salt and ground black pepper to taste
1/2 cup bread crumbs
1 large egg, beaten
4 tablespoons sunflower oil, for frying
lime wedges, for garnish
Cooking Directions:
Melt the butter in a pan and add the flour. Cook for 1 to 2 minutes, stirring continuously. Remove from heat and gradually stir in the milk. Return to the heat and cook for 2 to 3 minutes until mixture thickens.
Remove the pan from the heat and add the crabmeat, coriander, lemon grass, chili, ginger, salt, pepper and 2 tablespoon bread crumbs. Mix together and leave to cool.
Using floured hands, shape the crab mixture into 10 cakes. Dip the crab cakes in the beaten egg and coat in the remaining bread crumbs. Cover and chill for 20 minutes.
Heat the oil in a frying pan. Lightly cook the cakes for 3 to 5 minutes on each side or until golden brown.
Garnish and serve either hot or cold with a selection of dips.
Makes 10 crab cakes.
Nutritional Information Per Serving (1/10 of recipe): Calories: 129; Total Fat: 5g; Total Carbs: 11g; Fiber: 1g; Protein: 10g.
"From sea to plate, Seafish delivers expert knowledge, skills and support which help the UK seafood industry secure a sustainable and profitable future."
Recipe and photograph courtesy of Seafish, the UK Sea Fish Industry Authority www.seafish.org.