Thai Seafood Casserole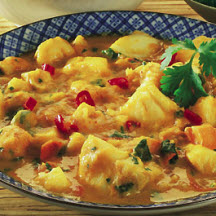 Recipe courtesy of Seafish, the UK Sea Fish Industry Authority.
Recipe Ingredients:
1 pound cod, pollack or monkfish fillets, skinned and cut into chunks
4 ounces cooked peeled prawns
1 tablespoon vegetable oil
1 onion, chopped
2 tomatoes, roughly chopped
1 tablespoon mild Thai curry paste
Juice and zest of 1 lime
1 (14-ounce) can coconut milk
2 tablespoons fresh chopped coriander
1 red chile, sliced and seeds removed (optional)
Fresh coriander (cilantro) leaves, for garnish
Cooked noodles for accompaniment
Cooking Directions:
Preheat the oil in a large saucepan, add the onion and cook for 1 minute.
Stir in the tomatoes and Thai paste, add the lime and coconut milk, bring to the boil and simmer for 15 minutes until sauce has reduced and thickened.
Add the fish and simmer for 5 minutes.
Add the prawns and chopped coriander and cook for 3 minutes.
Sprinkle with the chopped red chile, if using, and garnish with the coriander. Serve with lime wedges and noodles.
Makes 4 servings.
Tip: Mix the casserole through the noodles, which children love, and omit the red chile.
"From sea to plate, Seafish delivers expert knowledge, skills and support which help the UK seafood industry secure a sustainable and profitable future."
Recipe and photograph courtesy of Seafish, the UK Sea Fish Industry Authority www.seafish.org.