Apple Stuffed Squash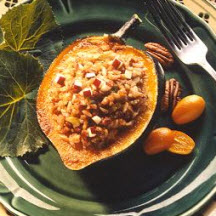 Baked acorn squash filled with a delicious cinnamon-scented apple, celery, toasted pecan and rice stuffing.
Recipe Ingredients:
2 acorn squash, halved and seeded
1 tablespoon melted butter or margarine
1/4 teaspoon salt
1/4 teaspoon ground cinnamon
2 cups cooked white or brown rice (cooked in chicken broth)
1 cup unsweetened applesauce
1/2 cup chopped celery
1/2 cup chopped toasted pecans
1/4 cup firmly packed brown sugar
1/2 teaspoon onion powder
1/2 teaspoon ground ginger
4 small apple wedges with peel
Cooking Directions:
Place squash cut-side down in shallow baking pan.
Bake in a preheated oven at 350°F (175°C) 30 minutes.
Turn squash cut-side up; brush with butter. Sprinkle with salt and cinnamon.
Combine rice, applesauce, celery, pecans, brown sugar, onion powder and ginger.
Fill squash evenly with rice stuffing.
Bake, uncovered, 20 to 30 minutes. Garnish with apple wedges.
Makes 6 servings.
Recipe and photograph provided courtesy of USA Rice Federation.