Baked Sweet Potatoes with Cranberry Gorgonzola Gremolata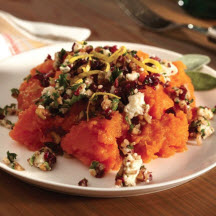 The bold flavor of the gorgonzola gremolata sprinkled atop mashed sweet potatoes makes for a rich side dish that guests will love.
Recipe Ingredients:
Sweet Potatoes:
6 medium sweet potatoes
1/4 cup melted butter
1/2 teaspoon salt
1/4 cup pure maple syrup
Gorgonzola Gremolata:
1/4 cup minced fresh parsley
1 lemon, zested
1 clove garlic, minced finely
3 tablespoons minced pecans
3 tablespoons finely chopped dried cranberries
1 green onion, minced
2 ounces Stella gorgonzola, crumbled (If you prefer a milder flavor, use 2 ounces crumbled blue cheese instead of gorgonzola)
Cooking Directions:
To Make the Sweet Potatoes: Preheat oven to 450°F (230°C).
Place sweet potatoes on cookie sheet and bake for 30 minutes. Flip over and return to oven to bake until tender, about 20 minutes. Remove from oven and set aside.
When cool enough to do so safely, peel sweet potatoes. Place in a medium skillet over low heat with butter, salt and maple syrup for 5 minutes, basting the potatoes with the butter mixture occasionally. Lightly smash the potatoes until there is an even consistency. Hold over low heat.
To Make the Gorgonzola Gremolata: In a small bowl, toss together parsley, lemon zest, garlic, pecans, cranberries and green onion. Gently fold in the cheese.
Transfer mashed sweet potatoes to a serving dish and sprinkle with the gremolata. Serve hot.
Makes 6 servings.
Recipe and photograph provided by DCI Cheese Company, Inc., via Brandpoint Content; Copyright 1996-2014.