Brussels Sprouts with Apples & Toasted Walnuts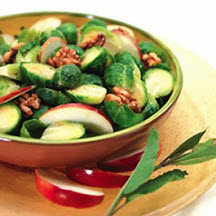 This recipe makes a delicious side dish to any meal. The flavor of the walnuts is greatly enhanced by toasting them in the oven. The crunch from the nuts and the apples pairs well with the softer texture of the Brussels sprouts.
Recipe Ingredients:
1 pound (4 cups) Brussels sprouts
2 apples, peeled, seeded and sliced into thin slices
1/2 cup walnuts
2 tablespoons butter
Salt and ground black pepper to taste
1/4 teaspoon ground nutmeg (or to taste)
Cooking Directions:
Preheat oven to 350°F (175°C).
Roughly chop walnuts and place on baking tray. Toast in oven for 5 to 8 minutes until nuts are golden. Be sure to watch nuts carefully as they can quickly become over toasted. Set nuts aside.
Peel, seed and slice apples. Toss in apple juice to prevent discoloration. Set aside.
Trim bottoms of sprouts and peel off the outer leaves. Place sprouts in a pot of boiling water. Cook until sprouts are bright green and tender, about 5 minutes. Remove from heat and run sprouts under cold water to stop cooking process. Drain and slice sprouts in half.
In a large saucepan, over medium high heat, melt 2 Tbsp. of butter. Toss sprouts, apples and walnuts in butter. Season with salt, pepper and nutmeg to taste. Cook 1 to 2 minutes. Do not over cook or the apples will become very soft. Place in serving bowl and serve immediately.
Makes 6 servings.
Nutritional Information Per Serving (1/6 of recipe): Calories: 164; Total Fat: 10g; Total Carbs: 17g; Protein: 6g.
Recipe and photograph courtesy of B.C. Tree Fruits Limited.