Butternut Squash Pavé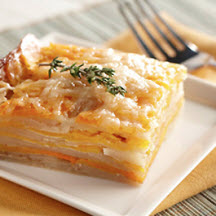 Recipe courtesy of The Soyfoods Council.
Recipe Ingredients:
1 tablespoon butter
6 cloves minced garlic
2 minced shallots
1 1/2 tablespoons kosher salt
1/2 teaspoon ground white pepper
1 teaspoon ground cinnamon
1/2 teaspoon ground nutmeg
1/4 teaspoon cayenne pepper
2 cups soy milk, plain
4 sprigs fresh thyme
2 bay leaves
3 large egg yolks
3 pounds butternut squash, peeled and sliced 1/16-inch thick
6 Idaho potatoes, peeled and sliced 1/16-inch thick
2 tablespoons butter, cold (for buttering the pan)
Salt and ground black pepper
2 cups freshly grated Parmesan cheese - divided use
Cooking Directions:
Over medium heat, in a large saucepan add butter, melt. Add garlic and shallots, stir until translucent. Add seasonings, mix to a paste consistency. Whisk in soy milk, add thyme and bay leaf, bring to a simmer. Remove from heat, cool for 10 minutes. Remove bay leaves and thyme.
In a separate medium mixing bowl, add egg yolks, whisk. Slowly add milk mixture, whisking constantly.
Using a mandolin, very thinly slice squash and potatoes.
In a well-buttered pan, place a single slightly-overlapping layer of potatoes. Sprinkle very lightly with salt, pepper and Parmesan cheese.
Next place a single slightly-overlapping layer of squash into the pan, arranging the squash perpendicular to the direction that the potatoes were laid. Sprinkle lightly with salt, pepper and Parmesan cheese. Continue alternating layers of potatoes and squash, alternating directions with each layer, and sprinkling each layer with salt, pepper and cheese.
Once all of the squash and potatoes have been used (or you are within the top 1/4-inch of the pan, slowly pour the cream mixture over the squash and potatoes. You may have to tip the pan from side-to-side or carefully press down atop of the vegetables in order to allow the cream to flow down among the layers.
Cover the pan with aluminum foil and bake for 60 minutes in a preheated oven at 375°F (190°C). Remove the pan from the oven, uncover, and allow to cool slightly.
Place the pan into a larger high-sided pan to catch any possible overflow. Lightly drape a sheet of parchment paper over the pan. With another 11-inch square pan, press down firmly atop the potato and squash to compress the layers. Some liquid may expunge around the sides of the pan; this is to be expected. Place a heavy weight atop the second pan (a few large cans of food works great!) and refrigerate overnight.
Remove the weights and pan from the mixture, gently peel away the parchment paper. With paper towels, wipe away any excess moisture and cream from the sides of the pan. Cover with foil, bake at 375°F (190°C) until warmed throughout, about 45 minutes.
Uncover and sprinkle the top layer with 1/2 cup Parmesan cheese. Bake uncovered until browned. Cut and serve immediately.
Makes 16 servings.
Recipe and photograph courtesy of The Soyfoods Council.