Corn-Stuffed Tomatoes
with Wisconsin Muenster Cheese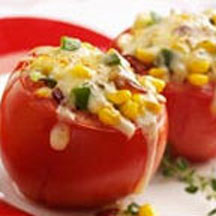 These tomato 'cups', filled with a tasty mixture of shredded Muenster cheese, bacon, corn and fresh thyme, make a terrific side dish with great presentation.
Recipe Ingredients:
6 medium tomatoes
1 tablespoon butter
1/4 cup sliced green onions
1/3 cup diced green pepper
2 1/2 cups fresh corn kernels (4 to 5 ears), cut from the cob
2 tablespoons water
1 tablespoon fresh thyme leaves, or 1/4 teaspoon dried thyme
6 slices chopped cooked bacon
2 tablespoons mayonnaise
1 1/2 cups shredded Wisconsin Muenster cheese
Cooking Directions:
Slice the tops from the tomatoes. Carefully scoop out the pulp, leaving a shell. A serrated grapefruit spoon or melon baller works well for this. Turn the tomatoes upside down and drain on paper toweling.
Preheat oven to 400ºF (205ºC). Lightly grease a pizza pan or other baking sheet. Set aside.
Heat the butter in a 9 or 10-inch skillet. Add green onions and sauté over a medium heat about 3 minutes. Add green pepper and sauté 2 to 3 minutes longer.
Add the corn kernels, water and thyme. Bring to a boil. Cover and cook at a gentle boil until the corn is tender, about 5 to 7 minutes.
Remove from heat. Stir in bacon pieces and mayonnaise.
Fill each tomato with 1/6 of the mixture.
Bake for 10 to15 minutes, until the tomatoes are almost cooked, but still hold their shape. Remove from oven and top each tomato with 1/4 cup of the Muenster.
Bake 3 to 5 minutes, until the cheese melts. Or, place the cheese-topped tomatoes under a hot broiler. Broil just until cheese melts and slightly browns.
Makes 6 servings.
Recipe and photograph provided courtesy of Wisconsin Milk Marketing Board, Inc.