Fried Green Tomatoes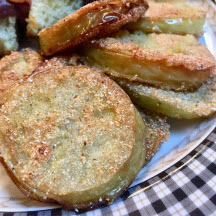 Fried green tomatoes are best when served hot—straight out of the skillet, so be sure to time your planned meal around this Southern specialty!
Recipe Ingredients:
2 pounds green tomatoes, cut into 1/4-inch slices
1 1/2 cups white or yellow cornmeal
Salt and pepper to taste
Vegetable oil for frying
Cooking Directions:
Dredge tomato slices in cornmeal.
Heat 1/4-inch-deep oil in a large heavy skillet over medium heat; add tomato slices, a few at a time, and fry about 2 minutes on each side or until lightly browned. Drain on paper towels.
Sprinkle with salt and pepper to taste and serve immediately.
Makes 4 to 6 servings.
Recipe and photograph property of CooksRecipes.com; copyright © 2018; See Terms of Use.