Golden Mashed Potatoes with Chives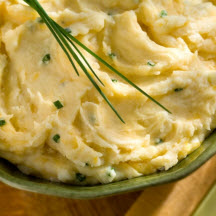 A Midwest favorite, mashed russet potatoes are combined with sharp cheddar cheese and fresh chives.
Recipe Ingredients:
2 pounds russet potatoes, peeled, cut into 1 1/2-inch cubes
1 1/2 cups (6 ounces) shredded sharp cheddar cheese
2/3 cup half-and-half
1/4 cup butter
2 tablespoons chopped fresh chives
1/2 teaspoon salt
1/8 teaspoon ground black pepper
Cooking Directions:
Place potatoes in large stockpot and cover with water. Bring to boil on medium-high heat. Reduce heat to medium-low and simmer, uncovered, 10 to 12 minutes or until tender when pierced with a fork.
Drain potatoes, return to pot and heat on low until excess moisture has evaporated, about 1 to 2 minutes.
Add cheese, half and half, and butter to the potatoes. Mash with potato masher until smooth. Stir in chopped chives, salt and pepper.
Transfer potatoes to serving bowl.
Makes 8 servings.
Nutritional Information Per Serving (1/8 of recipe): Calories 415; Fat 16g; Saturated Fat 4g; Trans Fat 0g; Cholesterol 166; Protein 54g; Sodium 342mg; Carbohydrates 10g; Sugar 9g; Iron 0%; Fiber 0%; Calcium 0%.
Recipe and photograph provided courtesy of Butterball, LLC.