Green Beans with Roasted Walnuts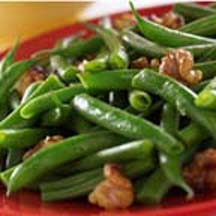 Roasted walnut halves add a flavorful crunch and nutritional value to green beans.
Recipe Ingredients:
8 ounces walnut halves
2 tablespoons butter
1/4 cup chicken broth
2 (16-ounce) packages frozen green beans
Salt and pepper to taste
Cooking Directions:
Preheat oven to 325°F (160°C).
Place walnuts on a baking sheet and roast 10 to 12 minutes, stirring once.
In a saucepan, combine butter, chicken broth and green beans; cook uncovered, stirring often, for 3 to 5 minutes.
Add roasted walnuts to the beans, season with salt and pepper.
Makes 10 to 12 servings.
Recipe and photograph provided courtesy of Honeysuckle White, a division of Cargill, Incorporated. Used with permission.