Grilled Fresh Pineapple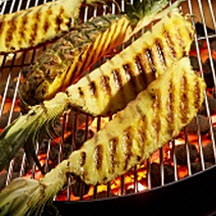 The natural sugars in fresh pineapple caramelize quickly as it cooks, so watch closely.
Recipe Ingredients:
1 fresh pineapple
Cooking Directions:
Prepare grill.
Cut pineapple lengthwise through leaves, keeping leaves attached, into 8 wedges.
Grill pineapple wedges, cut side down, on a lightly oiled rack set 5 to 6 inches over glowing coals until just charred, about 2 minutes on each cut side.
Makes 8 servings.