Kabocha Squash with Pomegranate Yogurt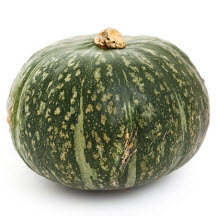 Wow your guests with this delicious kabocha squash recipe from celebrity Chef Seamus Mullen.
Recipe Ingredients:
1/2 grated garlic
1/4 cup extra virgin olive oil
1/2 bunch chopped sage
Handful of thyme
2 tablespoons maple syrup
1 medium Kabocha squash skin on, seeded and cut into 4 wedges
Salt
Pepper
1/2 tablespoon Ras el Hanout spice
Orange zest
1 cup whole milk
1/2 clove of grated garlic
1/4 cup of Arbequina olive oil
Zest and juice from one lemon
1/2 tablespoon ground pink peppercorn
Seeds of 1 fresh pomegranate
2 tablespoons fresh mint, coarsely chopped
Cooking Directions:
Preheat oven to 400°F (205°C).
Combine grated garlic, olive oil, sage and thyme into a food processor and process until smooth. Whisk in maple syrup. Spread half the Kabocha squash in a 1.5 quart CW by CorningWare Medium Baker. Using a pastry brush, thoroughly brush all the squash with the olive oil/maple syrup mixture. Season with salt, pepper, Ras el Hanout and orange zest and roast, covered with foil, for 35 minutes or until the flesh and skin are tender.
Meanwhile combine the milk, Arbequina olive oil, lemon zest and juice, peppercorn, pomegranate seeds, mint and salt and pepper to taste in a 20-ounce CW by CorningWare Small Baker.
Remove the squash from oven and cut each piece into bite-size pieces. Place them in a clean, cool dish. Top each piece of squash with a dollop of the yogurt and serve immediately.
Makes 4 servings; or 16 tasting portions.
Recipe provided by worldkitchen.com via Brandpoint Content; Copyright 1996-2014.