Low-Fat Idaho® Potato Gratin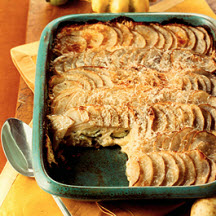 Recipe courtesy of the Idaho Potato Commission.
Recipe Ingredients:
2 to 4 large cloves garlic, minced
2 1/2 to 3 pounds Idaho® potatoes (8 to 10 medium-sized) well scrubbed, very thinly sliced
8 ounces shredded 75% light cheddar cheese
3/4 cup non-fat mayonnaise
3/4 cup non-fat evaporated milk
1 1/2 teaspoon dried thyme
1/2 teaspoon white pepper
8 to 10 ounces zucchini, washed and thinly sliced
1/4 cup freshly grated Parmesan cheese (or 2 tablespoons packaged grated Parmesan)
Cooking Directions:
Preheat oven to 375°F (190°C).
Coat a 13x9x2-inch baking dish with cooking spray, sprinkle in garlic and arrange half of the potatoes in the dish. Evenly add 1/2 the cheddar.
In a small bowl, mix the non-fat mayonnaise, evaporated milk, white pepper and thyme. Spoon half of this mixture over cheese. Cover with the sliced zucchini. Sprinkle on remaining cheddar cheese, and spoon remaining milk mixture on top of cheese.
Arrange remaining potato slices on top and sprinkle Parmesan over all. Cover tightly with foil and bake 50 minutes.
Uncover and broil 6-inch from heat source 4 to 6 minutes or until golden.
Serve hot or at room temperature.
Makes 12 servings.
Nutritional Information Per Serving (1/12 of recipe): Calories: 241; Total Fat: 3g; Cholesterol: 11mg; Total Carbs: 42g; Protein: 13g; Sodium: 368mg.
Recipe and photograph courtesy of the Idaho Potato Commission.