Maple Glazed Butternut Squash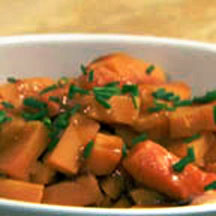 The dark rum in this side dish makes it worthy to be served at any holiday or party meal.
Recipe Ingredients:
1 medium butternut squash, peeled, seeded, quartered and cut into 1/2-inch slices
1/4 cup maple syrup
1/4 teaspoon ground mace
1/4 cup dark rum (or substitute with fruit juice of your choice)
2/3 cup water
Cooking Directions:
To prepare butternut squash, peel, seed and quarter, then cut into half-inch slices.
Add the slices to a large saucepan and add water, maple syrup, ground nutmeg, and dark rum.
Bring to a boil, then simmer for about 15 minutes, or until the squash is tender.
Transfer the squash with a slotted spoon to a heated serving dish
Reserve the cooking liquid and boil until thickened. Pour over the squash.
Makes 6 servings.
Recipe provided courtesy of HolidayKitchen.tv. Photograph property of CooksRecipes.com.