Mexican Mushroom Mixed Grill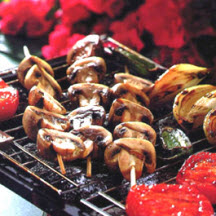 Recipe courtesy of the Mushroom Council.
Recipe Ingredients:
1 pound fresh white or crimini mushrooms
2 jalapeño peppers, halved lengthwise, seeds removed
2 medium tomatoes, thickly sliced
1 large onion, peeled and cut in wedges
Basting Sauce:
1/4 cup olive oil
2 teaspoons minced garlic
1 teaspoon salt
1/2 teaspoon ground black pepper
2 tablespoons chopped cilantro
2 tablespoons lime juice
Cooking Directions:
Preheat grill or broiler.
Trim mushroom stem ends; cut mushrooms lengthwise in halves. Taking care not to break caps, thread mushrooms lengthwise on skewers.
For Basting Sauce: In a small bowl, combine oil, garlic, salt and ground black pepper.
Brush basting sauce on mushrooms, peppers, tomatoes and onion.
Arrange skewered mushrooms and vegetables in a single layer on the grill or broiler pan rack. Grill on all sides, brushing with more basting sauce before and after turning; remove each ingredient when browned and tender, about 10 minutes.
Transfer mushrooms to a bowl. Dice onions and tomatoes; slice jalapeño peppers; add to bowl. Gently stir in cilantro and lime juice.
Serve warm or at room temperature. Garnish with lime wedges and cilantro sprigs, if desired.
Makes 4 servings.
Nutritional Information Per Serving (1/4 of recipe): Calories: 179; Total Fat: 14g; Cholesterol: 0mg; Total Carbs: 12g; Fiber: 3g; Protein: 4g; Sodium: 13mg.
Recipe and photograph courtesy of the Mushroom Council.