Multigrain Bread, Onion, Pecan and
Golden Raisin Stuffing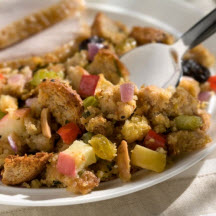 This delicious stuffing offers a wonderful combination of flavors and textures.
Recipe Ingredients:
8 cups cut into cubes multi-grain bread
1/2 cup apple brandy or apple juice
3/4 cup golden raisins
1/3 cup olive oil
1 large onion, chopped
3 cloves garlic, minced
2 cups chopped celery
1 1/2 cups pecan halves, toasted,chopped
1 cup chopped fresh parsley
2 teaspoons dried sage leaves, crushed
1 teaspoon dried thyme leaves
1 teaspoon fennel seeds
2 cups chicken broth
1 large egg
Cooking Directions:
Preheat the oven to 275°F (135°C).
Arrange bread cubes in a single layer on a large roasting pan or baking sheet. Bake 25 minutes or until bread is dry, but not toasted, stirring frequently.
Meanwhile, combine the apple juice or brandy with the raisins in a small saucepan. Bring to a boil, remove from the heat and let stand 15 minutes.
Heat the oil in a large skillet over medium-high heat. Add the onion, garlic and celery and cook 12 to 15 minutes, or until tender.
In a large mixing bowl, combine the bread cubes, raisin mixture, onion mixture, pecans, parsley, sage, thyme and fennel. Moisten the stuffing with the broth and bind loosely with the egg. Season to taste with salt and pepper.
Stuff the turkey cavities immediately before roasting and cook according to directions on wrapper. Place any remaining stuffing in a buttered casserole and bake at 325°F (160°C) until browned and crunchy, about 45 minutes.
Makes 16 servings.
Recipe and photograph provided courtesy of Butterball, LLC.