Potato Gratin with Aged Cheddar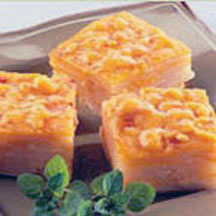 Your family and guests will love this delicious version of potatoes au gratin seasoned with garlic, onions and aged cheddar cheese.
Recipe Ingredients:
1 clove garlic, halved
Vegetable cooking spray
1 cup onions, diced
6 medium baking potatoes, peeled and cut into 1/8-inch slices
1 teaspoon salt - divided use
1 teaspoon ground black pepper, freshly ground - divided use
3 tablespoons butter, cut into small pieces
2 cups (8 ounces) Aged Wisconsin Cheddar cheese, shredded - divided use
1 cup chicken broth - divided use
2 tablespoons all-purpose flour
1 cup whole milk
Cooking Directions:
Rub shallow 3-quart baking dish with cut slices of garlic halves; discard garlic. Coat dish with cooking spray.
Coat a small nonstick skillet with cooking spray; place over medium heat until hot. Add onions and sauté 5 minutes; set aside.
Arrange one-third of potato slices in prepared dish; sprinkle with1/3 teaspoon salt and 1/3 teaspoon ground black pepper; top with half of sautéed onions. Dot with 1 tablespoon butter pieces.
Divide cheese in fourths and sprinkle one-fourth over onions; repeat layers, ending with remaining potato slices.
Mix 1/4 cup chicken broth with 2 tablespoons flour in a small saucepan. Add remaining broth and milk to saucepan; bring to a boil over low heat; pour over potato mixture.
Sprinkle with one-fourth of cheese.
Bake uncovered at 425°F (220°C) for 50 minutes.
Sprinkle with remaining cheese; bake 10 minutes more or until tender.
Let stand 5 minutes before serving.
Makes 6 servings.
Recipe and photograph provided courtesy of Wisconsin Milk Marketing Board, Inc.