Chef Berry's Roasted Pumpkin Risotto with
Cranberry Brown Butter Sauce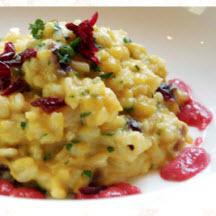 Tom Berry, Executive Chef of Bambara Restaurant in Cambridge, Massachusetts, uses cranberries to create rather untraditional holiday dishes that still work in the flavors of the season. According to Chef Berry, "Cranberries are an essential part of the holiday meal, and it's more than just the sauce. I've added the popular fruit to stuffing, marinades and appetizers." Try this signature dish yourself and see just how easy it is to cook with cranberries.
Recipe Ingredients:
Roasted Pumpkin Risotto:
1 (3-pound) sugar pumpkin
1/4 cup light olive oil
6 cups chicken or vegetable stock
1 medium onion, chopped
1 tablespoon chopped garlic
2 cups aborio rice
1/2 cup white wine
1/4 cup freshly grated Parmesan cheese
1 tablespoon butter
2 tablespoons chopped, fresh parsley
Salt and freshly ground black pepper
Cranberry Brown Butter Sauce:
1/3 cup cranberry juice cocktail
1 cup fresh or frozen cranberries
1 tablespoon Dijon mustard
1 shallot, sliced
1/4 cup granulated sugar
1 stick unsalted butter
Salt and pepper
Cooking Directions:
For Roasted Pumpkin Risotto: Preheat oven to 350°F (175°C). Cut pumpkin in half; scrape out the seeds and membrane. Place pumpkin halves cut side down on a cookie sheet and lightly rub the skin with half of the olive oil to prevent it from cracking. Roast pumpkin halves until tender, about 20 to 25 minutes. Cool and scoop out pumpkin meat into a medium mixing bowl.
In a large saucepan, heat the chicken stock until hot; set aside. Coat the bottom of a second large saucepan with remaining olive oil, and sweat the onion and garlic over medium heat, about 5 minutes. Add rice and cook for 2 minutes, stirring often. Add wine and simmer, stirring often, until liquid has been absorbed, about 2 minutes. Add half of the hot chicken stock and continue to cook, stirring constantly, until most of the liquid has been absorbed, about 10 minutes. Add remaining chicken stock and reserved pumpkin meat. Continue to cook and stir until most of the liquid has been absorbed and the rice grains are tender but not broken, about 10 minutes. Fold in Parmesan cheese, butter and parsley, season with salt and pepper. Serve the risotto in bowls with the cranberry brown butter sauce drizzled around.
For Cranberry Brown Butter Sauce: Add cranberry juice cocktail, cranberries, mustard, shallot and sugar to a blender and purée until very smooth. Season with salt and pepper. In a small saucepan over low heat, melt butter and cook until it is light brown and has a nutty aroma. (Be careful not to burn.)
With the blender running on medium speed, slowly add the brown butter until well incorporated. Serve immediately with risotto or keep at room temperature until needed. The sauce can be made a day ahead and refrigerated, but will become very firm and needs to be slowly reheated for use. Makes approximately 2 cups.
Makes 4 servings.
Recipe Variation: This recipe works great with leftover turkey! Just fold in 2 cups of picked turkey meat during the last 10 minutes of cooking. Add 3/4 cup of Craisins® Sweetened Dried Cranberries–pumpkin and cranberries are a great flavor combination.
Recipe created by Chef Tom Berry.
Recipe and photograph provided courtesy of Ocean Spray Cranberries, Inc.