Sautéed Brussels Sprouts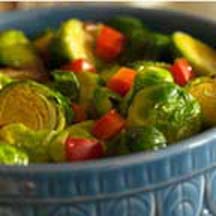 This pleasingly colorful side dish of sautéed Brussels sprouts, with garlic and diced red bell pepper, is quick and simple to prepare and quite delicious.
Recipe Ingredients:
1/4 cup butter
2 cloves garlic, minced
1/2 cup red pepper, diced
1 to 1 1/2 pounds fresh brussels sprouts, halved
Cooking Directions:
Melt butter in heavy-duty nonstick skillet over medium-high heat. Add garlic and stir until golden. Add red pepper and adjust heat to low, stirring occasionally for 2 minutes.
Add brussels sprouts and adjust heat to medium high. Cook for about 4 minutes, stirring occasionally until done.
Makes 12 servings.
Recipe and photograph provided courtesy of Honeysuckle White, a division of Cargill, Incorporated. Used with permission.