Seven Whole Grain Harvest Stuffing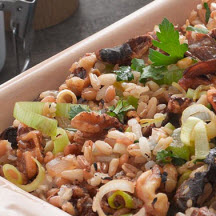 A wholesome stuffing with pieces of sweet apple, crunchy walnuts, poultry seasoning and a hint of cinnamon.
Recipe Ingredients:
2 cups Kashi® Nuggets
1 red apple, coarsely chopped (unpeeled)
2 onion, coarsely chopped
2 cups carrots, small julienne cut
1 cup celery, coarsely chopped
2 tablespoons olive oil
1/2 teaspoon cinnamon
1/2 teaspoon poultry seasoning
1 teaspoon each black pepper and sea salt
1 (14-ounce) can chicken or veggie broth
3/4 cup walnuts, coarsely chopped
Cooking Directions:
Heat olive oil in skillet and add onion, celery and carrots. Cook for about 3-5 minutes or until veggies are slightly soft.
Add salt, pepper, cinnamon, and poultry seasoning, and chicken brother to veggie mixture – mix well.
Add Kashi Nuggets, chopped apples and walnuts to veggie mixture. Continue to cook for only about 1 minute, mixing gently. Do not overcook; Nuggets will get soggy.
Place prepared stuffing in 8x8 baking dish and bake at 400°F (205°C) for 15 to 20 minutes until topping is lightly browned and a bit crunchy. Do not over bake; it will dry out.
Makes 12 (1/2 cup) servings.
Nutritional Information Per Serving (1/12 of recipe): Calories 150, Calories from Fat 50, Total Fat 5g, Saturated Fat 0.5g, Trans Fat 0g, Cholesterol 0mg, Sodium 360mg, Potassium 190mg, Total Carbohydrate 25g, Dietary Fiber 4g, Sugars 5g, Other Carbohydrate 16g, Protein 4g, Vitamin A 50%, Vitamin C 2%, Calcium 2%, Iron 4%.
Recipe provided courtesy of the Kashi Company, © 2007. Used with permission.