Southern Style Greens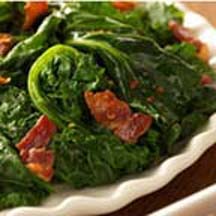 Simply said, a side dish of tender-cooked greens, seasoned with bacon, garlic, red pepper flakes, sugar and cider vinegar, is Southern comfort food at its best.
Recipe Ingredients:
8 ounces sliced bacon, cut into 1/2-inch pieces
3 cloves garlic, sliced thin
1 teaspoon red pepper flakes (or as desired)
1 (16-ounce) bag pre-cut and washed mixed greens (such as mustard, collard and/or turnip greens)
32 ounces (4 cups) canned or boxed chicken stock
1/2 teaspoon cider vinegar
1 1/2 teaspoons granulated sugar
Salt and pepper to taste
Cooking Directions:
In a large pot over medium-high heat, add bacon. Stir and cook until bacon is crisp and remove.
Return pot and bacon fat to heat and adjust heat to low. Add garlic and cook for 3 minutes.
Then add red pepper flakes and cook one more minute.
Add remaining ingredients and bring to a low simmer. Loosely cover and cook until greens are tender. Adjust seasoning with salt and pepper, and garnish with crisp bacon.
Makes 6 servings.
Recipe and photograph provided courtesy of Honeysuckle White, a division of Cargill, Incorporated. Used with permission.