Southwestern Stuffing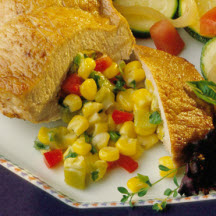 Use this corn stuffing to give chops a Tex-Mex flavor. Or, try it with a stuffed pork burger. For cooking times check stuffed chop recipes like Apple-Stuffed Pork Chops or stuffed recipes like Mushroom-Stuffed Pork Burgers for cooking guidelines.
Recipe Ingredients:
1/4 cup chopped cilantro
1 cup corn kernels
1/4 cup green onion, chopped
1 (4-ounce) can diced roasted green chiles
1 clove garlic, minced
1/2 cup shredded Monterey Jack cheese
Cooking Directions:
Stir together all ingredients.
Makes enough stuffing for 6 to 8 pork chops or 4 double-pocket chops.
Recipe and photograph provided courtesy of National Pork Board.