Stuffed Peppers with Rice, Apples and Bacon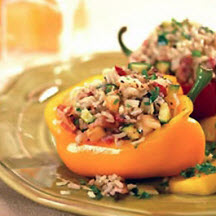 These peppers are easy to prepare and make a great side dish to accompany any meal. Try using a variety of colored peppers to add some color to a winter weekday meal.
Recipe Ingredients:
6 medium sized bell peppers
1 1/2 cups instant rice
2 tablespoons chicken bouillon powder
1 1/2 teaspoons dried thyme
2 tablespoons vegetable oil
1 small yellow onion, diced
1 clove garlic, minced
2 large celery stalks, diced
1 small zucchini, diced
1 cup button mushrooms, diced
2 cups apples, peeled, seeded and diced
6 strips cooked bacon, roughly chopped
Salt and ground black pepper to taste
1/4 cup freshly grated Parmesan cheese
Cooking Directions:
Wash peppers. Remove the top of the pepper and clean out the inside. Place peppers on a baking tray, set aside.
Prepare instant rice following the instructions on the back of the box. Add chicken bouillon powder and dried thyme to the rice water.
In a large saucepan, place 2 tablespoons of vegetable oil. Sauté onions until soft, about 5 minutes. Add minced garlic and celery. Sauté until soft. Add zucchini, mushrooms, apples and chopped bacon. Sauté for five minutes Remove saucepan from heat. Add rice and combine ingredients well.
Preheat oven to 350°F (175°C).
Once rice mixture has cooled slightly, stuff each pepper with filling. Place in a 13x9x2-inch baking pan.
Top each pepper with a sprinkling of Parmesan cheese.
Place pan in oven and bake for 35 to 40 minutes until peppers are soft.
Makes 6 servings.
Nutritional Information Per Serving (1/6 of recipe): Calories: 325; Total Fat: 14g; Total Carbs: 43g; Protein: 11g.
Recipe and photograph courtesy of B.C. Tree Fruits Limited.