Sweet Potato Bar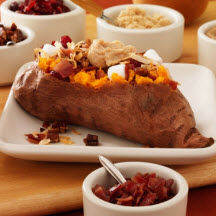 Rather than a baked potato try a sweet potato bar where guests can pile on the ingredients and toppings they love. This is also a fun and tasty alternative to the tradition candied sweet potatoes served for Thanksgiving Day dinner.
Recipe Ingredients:
8 whole sweet potatoes
Toppings: Choose as many or as few as you'd like - or think of your own!
1 cup toasted pecans or walnuts*
1 cup firmly packed light or dark brown sugar
1 cup shredded coconut, toasted
1 cup Butterball® Turkey Bacon, cooked, drained and crumbled
1 cup mini marshmallows
1 cup sweetened dried cranberries
Ground cinnamon for sprinkling
Cinnamon Maple Butter:
1 cup butter, softened
2 tablespoons pure maple syrup
1/4 teaspoon vanilla extract
1/4 teaspoon ground cinnamon
Pinch of salt
Cooking Directions:
Preheat oven to 350°F (175°C).
Pierce the sweet potatoes with a fork in several places.
Place potatoes about 2-inches apart on foil-lined baking pan. Bake 40 to 60 minutes or until the tip of a knife is easily inserted into potatoes.
Split the tops of the potatoes using the tines of a fork, pushing the ends slightly to open. Arrange on a platter.
Place the toppings in small serving dishes. Arrange around the sweet potatoes or on the table so guests can top their potatoes as they choose.
For Cinnamon Maple Butter: Combine 1 butter, maple syrup, vanilla, cinnamon and salt, mixing well.
Makes 8 servings.
*To toast nuts, place in a shallow baking pan. Bake in a preheated oven at 350°F (175°C) for about 10 minutes or until nuts are fragrant and lightly browned, stirring occasionally. Cool. Or, place in skillet over medium heat and toast almonds, stirring constantly, until golden in color. Keep a close watch as nuts can quickly turn from perfectly toasted to burned and ruined.
Recipe and photograph provided courtesy of Butterball®; through ECES, Inc., Electronic Color Editorial Services.