Sweet Potato Cranberry Galette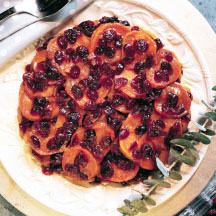 A wonderful sweet potato side dish with outstanding presentation and flavor to match.
Recipe Ingredients:
2 tablespoons butter or margarine
1 tablespoon olive oil
1 cup chopped onion
1 cup dried cranberries
1/4 cup packed light brown sugar
1 tablespoon ground ginger
2 to 2 1/2 pounds sweet potatoes (yams)
Cooking Directions:
Preheat oven to 400°F (205°C).
In a skillet, heat butter and olive oil and sauté onions until tender, about 5 to 7 minutes. Add cranberries, brown sugar and ginger, stirring until mixed.
Line a 9-inch round cake pan with aluminum foil and coat with non-stick cooking spray.
Peel potatoes and slice very thin, preferably with a food processor.
Spoon one tablespoon of cranberry mixture in center of cake pan.
Arrange one third of the sweet potato slices in concentric circles, overlapping in bottom of pan. Spread half of cranberry mixture over potatoes. Top with another one third sweet potato slices, arranged in same manner. Top with remaining cranberry mixture ending with sweet potatoes.
Coat a sheet of aluminum foil with nonstick cooking spray and cover sweet potatoes tightly.
Bake for 40 minutes, uncover and continue baking for an additional 20 minutes or until brown and crisp on top and potatoes are tender.
Place serving plate on cake pan and invert.
Makes 8 servings.
Created by Louisiana Sweet Potato Commission spokesperson, Holly Clegg.
Recipe and photograph provided courtesy of Louisiana Sweet Potato Commission.