Tomato Gratin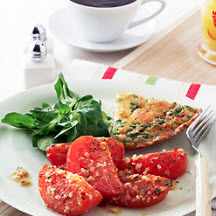 Recipe courtesy of Florida Tomato Commission.
Recipe Ingredients:
2 pounds firm, ripe tomatoes, cut into wedges
Kosher salt
3 tablespoons extra virgin olive oil
2 large cloves garlic, minced
1 teaspoon red pepper flakes (optional)
Freshly ground black pepper, to taste
13 round butter crackers
1/2 cup freshly grated Parmesan cheese
2 tablespoons mixed fresh herbs, such as oregano, thyme, and basil
Cooking Directions:
Preheat oven to 425°F (220°C).
Sprinkle tomato wedges liberally with salt and let drain in a colander for 15 minutes. Transfer to paper towels and gently pat dry.
While tomatoes drain, combine oil, garlic, and red pepper flakes, if using.
Lightly oil a baking dish large enough to hold the tomatoes in a single layer. Arrange tomatoes in the dish, skin side down; drizzle oil mixture over them and sprinkle with black pepper.
Put crackers in a resealable plastic bag and crush with a rolling pin. Add cheese and herbs to the crumbs and shake to combine. Sprinkle the crumb mixture evenly over tomatoes.
Bake the gratin in the upper third of the oven 12 to 15 minutes, until the crumb topping browns and the tomatoes are heated through.
Makes 6 servings.
Nutritional Information Per Serving (1/6 of recipe): Calories: 293; Total Fat: 14g; Saturated Fat: 3g; Cholesterol: 5mg; Total Carbs: 35g; Fiber: 3g; Protein: 8g; Sodium: 964mg; Potassium: 373mg.
Recipe and photograph courtesy of Florida Tomato Commission.