Vegetable Kabobs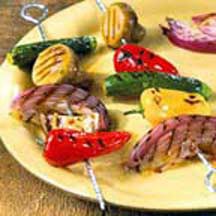 These crisp-tender vegetable kabobs are the essence of simplicity—a swath of rosemary-scented oil-and-vinegar dressing is their only embellishment.
Recipe Ingredients:
8 tiny new potatoes, quartered
2 tablespoons water
8 baby sunburst squash
4 miniature sweet peppers and/or 1 red sweet pepper, cut into 1-inch pieces
8 tiny red onions, halved, or 2 small red onions, each cut into 8 wedges
8 baby zucchini or 1 small zucchini, halved lengthwise and sliced
1/4 cup bottled oil-and-vinegar salad dressing
2 teaspoons snipped fresh rosemary or 1/2 teaspoon dried rosemary, crushed
Fresh rosemary (optional)
Cooking Directions:
In a 2-quart microwave-safe casserole combine potatoes and water. Micro-cook, covered, on 100% power (high) for 5 minutes. Gently stir in sunburst squash, sweet peppers, and onions. Cook, covered, on high for 4 to 6 minutes or until nearly tender. Drain. Cool slightly.
On eight 10-inch skewers* alternately thread the sunburst squash, sweet peppers, onions, and zucchini. In a small bowl combine dressing and the 2 teaspoons fresh or 1/2 teaspoon dried rosemary; brush over vegetables.
Grill kabobs on the rack of an uncovered grill directly over medium heat for 10 to 12 minutes or until vegetables are tender and browned, turning and brushing occasionally with dressing mixture. If desired, garnish with additional fresh rosemary.
Makes 8 servings.
*Note: Using rosemary skewers will add a special touch to your meal. To use fresh rosemary skewers, first grill the vegetables on regular metal skewers (the rosemary will burn if grilled), then thread grilled vegetables on long stalks of fresh rosemary, removing some of the rosemary leaves.
Make-Ahead Tip: Micro-cook vegetables as directed. Drain. Place vegetables in a bowl; cover and chill for up to 24 hours. To serve, assemble and grill kabobs as directed.
Nutritional Information Per Serving (1/8 of recipe): calories: 161, total fat: 8g, saturated fat: 1g, cholesterol: 0mg, sodium: 217mg, carbohydrate: 22g, fiber: 2g, protein: 3g, vitamin A: 15%, vitamin C: 75%, calcium: 2%, iron: 7%.
Exchanges: 1/2 starch, 2 vegetable, 1 fat/sugar.
Recipe and photograph provided by Better Homes and Gardens - BHG.com a member of the Home and Family Network for the best of cooking, gardening, decorating and more. © 2003 Meredith Corporation. All Rights Reserved.