Alaska Cod in Miso Broth with Udon Noodles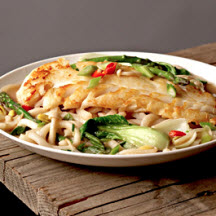 Recipe courtesy of Alaska Seafood Marketing Institute.
Recipe Ingredients:
2 Alaska Cod fillets (4 to 6 ounces each), fresh, thawed or frozen
1 tablespoon toasted sesame oil
1/4 cup miso paste
2 cups water
2 tablespoons teriyaki sauce or soy sauce
1 (8-ounce) package prepared udon noodles
1 red chile pepper, seeded and thinly sliced
4 green onions, thinly sliced
1 cup mushrooms, sliced
2 cups fresh stir-fry vegetables
Asian sweet chili sauce (optional)
Cooking Directions:
Rinse any ice glaze from frozen Alaska Cod under cold water; pat dry with paper towel.
Heat a wok or large nonstick skillet over medium-high heat.
Brush both sides of cod with sesame oil. Place cod in heated skillet and cook, uncovered, about 3 to 4 minutes until browned. Shake pan occasionally to keep fish from sticking.
Turn cod over; cover pan tightly and reduce heat to medium. Cook an additional 6 to 8 minutes for frozen cod or 3 to 4 minutes for fresh/thawed fish. Cook just until fish is opaque throughout. Remove seafood; cover and keep warm.
Add the miso, water and teriyaki or soy sauce to the wok/skillet. Bring to a boil, then reduce the heat to simmer and add the noodles and cook for 5 minutes.
Add the chili, onions, mushrooms and stir-fry vegetables and cook an additional 5 minutes.
Ladle the noodle mixture into two wide bowls, then top with a cod fillet. Serve with Asian sweet chili sauce, if desired.
Makes 6 servings.
Recipe and photograph courtesy of Alaska Seafood Marketing Institute.