Alaska Pollock Tom Yum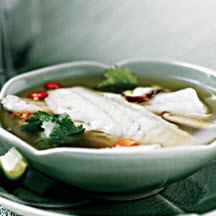 Recipe courtesy of Alaska Seafood Marketing Institute.
Recipe Ingredients:
1 quart (32 ounces) seafood stock
1 cup water
1 to 2 tablespoons fish sauce
1 stalk lemongrass (light part only), crushed
2 round slices galangal or gingerroot (about 1/2-inch thick), peeled
2 cloves garlic, crushed
4 (4-ounce) Alaska Pollock fillets, fresh, thawed or frozen
1 cup (2 ounces) straw or crimini mushrooms, sliced
Sea salt and freshly ground black pepper, to taste
2 Thai chile peppers, sliced into rounds
1 cup cilantro leaves
1 lime, cut into wedges
Cooking Directions:
In a large (12-inch) nonstick pan or stockpot, cook seafood stock, water, fish sauce, lemongrass, galangal and garlic over medium-high heat for 5 minutes.
Rinse any ice glaze from frozen Alaska Pollock fillets under cold water.
Turn off heat and gently add mushrooms and seafood to liquid, skin side down. Return heat to a simmer.
Once simmering, cover pan and cook 4 to 5 minutes for frozen seafood or 2 minutes for fresh/thawed fish.
Turn off heat and let seafood rest 5 minutes or until seafood is opaque throughout.
Remove lemongrass and galangal slices. Season to taste with salt and pepper.
Portion seafood and broth into bowls. Garnish with chile pepper slices, cilantro and lime wedge.
Makes 4 servings.
Nutritional Information Per Serving (1/4 of recipe): Calories: 152; Total Fat: 3g; Saturated Fat: 1g; Cholesterol: 83mg; Total Carbs: 5g; Fiber: 1g; Protein: 26g; Sodium: 1040mg.
Recipe and photograph courtesy of Alaska Seafood Marketing Institute.