Beef and Chorizo Chili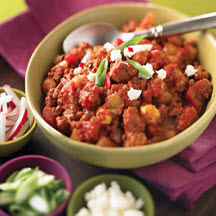 This delicious, Mexican-inspired chili is an excellent source of fiber, niacin, vitamin B6, vitamin B12, iron, selenium and zinc; and a good source of protein.
Recipe Ingredients:
Chili:
1 pound 95% lean ground beef
7 to 8 ounces beef chorizo
1 1/2 cups chopped white onions
2 to 4 medium serrano peppers, chopped
2 tablespoons ground ancho chili powder or regular chili powder
2 tablespoons masa harina or cornmeal
1 tablespoon dried Mexican or regular oregano leaves, crushed
1 teaspoon salt
2 (15-ounce) cans garbanzo beans or pinto beans, drained and rinsed
1 (28-ounce) can diced tomatoes, undrained
Creamy Avocado Dressing: (optional)
1 medium ripe avocado
3/4 cup water
1/4 cup fresh lime juice
1 peeled clove garlic
1/2 teaspoon salt
Hot cooked rice for accompaniment (optional)
Suggested Toppings: Sliced radishes, crumbled queso fresco, dairy sour cream, sliced green onions (optional)
Cooking Directions:
For Chili: Heat large nonstick skillet over medium heat until hot. Add ground beef, chorizo, onions and peppers; cook 8 to 10 minutes, breaking into 3/4-inch crumbles and stirring occasionally. Remove from skillet with slotted spoon; pour off drippings. Return beef to skillet.**
Add chili powder, masa harina, oregano and salt; cook and stir 1 minute. Stir in beans and tomatoes; bring to a boil. Reduce heat; cover and simmer 15 minutes. Remove from heat; let stand 5 minutes before serving.
Serve over rice with toppings, if desired.
For Creamy Avocado Dressing: Cut avocado into chunks. Place avocado, water, lime juice, garlic and salt in blender container. Cover; process until smooth. (May be prepared up to 1 day ahead. Cover and refrigerate.)
Makes 4 to 6 servings.
*To control the level of spicy heat, remove and discard some or all of the seeds and membranes from the peppers.
**Cooking times are for fresh or thoroughly thawed ground beef. Ground beef should be cooked to an internal temperature of 160°F (70°C). Color is not an indicator of ground beef doneness.
Nutritional Information Per Serving (1/4 of recipe): 646 calories; 29 g fat (1 g saturated fat; 12 g monounsaturated fat); 119 mg cholesterol; 2455 mg sodium; 47 g carbohydrate; 8.8 g fiber; 5 g protein; 9.4 mg niacin; 0.8 mg vitamin B6; 3.2 mcg vitamin B12; 7 mg iron; 28.8 mcg selenium; 7.8 mg zinc.
Recipe and photograph provided courtesy of The Beef Checkoff.