California Walnut Gazpacho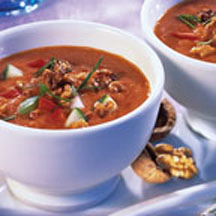 This classic Southern Spanish-style dish is the perfect warm-weather appetizer showcasing herbed walnuts as the finishing touch.
Recipe Ingredients:
5 ripe tomatoes, peeled and chopped
1 cucumber, peeled, seeded and coarsely chopped
1 small red or green bell pepper, chopped
1 clove garlic, minced
1 small red onion, finely chopped
1/4 cup white vinegar
1 1/2 cups tomato juice
Salt and freshly ground black pepper to taste
Hot pepper sauce, to taste (optional)
Herbed Walnuts:
1 teaspoon walnut oil
2 teaspoons chopped fresh rosemary
pinch cayenne pepper pinch
Salt, if desired
2/3 cup chopped California Walnuts
Cooking Directions:
In a large bowl, combine tomatoes, cucumber, pepper, garlic, onion, vinegar and tomato juice.
In food processor or blender, blend vegetable mixture in batches just until coarsely puréed. Return blended soup to bowl; cover and chill thoroughly.
Before serving, if soup seems too thick, stir in more tomato juice. Season with salt, pepper and hot pepper sauce to taste, if desired. Ladle soup into bowls and top with herbed walnuts.
Herbed Walnuts: Preheat oven to 350°F (175°C). In small baking pan, spread oil; heat in oven 3 to 4 minutes. Meanwhile, in small cup or bowl, stir rosemary, cayenne and salt, if desired; set aside. To heated oil, add walnuts; toss to coat. Sprinkle walnuts with rosemary mixture and stir about 5 to 7 minutes or until nuts are lightly toasted. Set aside until serving.
Makes 4 servings.
Recipe and photograph provided courtesy California Walnuts.