Cheesy Corn Soup with Smoked Chiles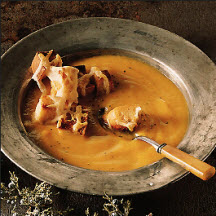 Chipotle chiles contribute a 'fire and smoke' flavor to this simple and creamy, fresh sweet corn soup topped with tangy, crumbled feta cheese.
Recipe Ingredients:
10 ears sweet corn in their husks
5 cups water
2 to 4 canned chipotle chile peppers, deveined, seeded and finely chopped*
Salt, to taste
1 cup (4 ounces) crumbled feta cheese
Cooking Directions:
Preheat the oven to 400°F (205°C).
Roast the corn (in the husks) on a rack in the oven for 45 minutes to 1 hour, until the outsides of the husks are dry and brown. Remove from the oven; cool.
Shuck the corn and cut the kernels from the ears. (You should have 7 to 8 cups.)
With an electric blender, purée 4 cups of the corn with 3 cups of the water.
In a 3 to 4-quart saucepan, combine the purée, the remaining 2 cups of water, and the peppers. Bring to a boil, reduce the heat, and simmer 15 minutes over low heat.
Add the remaining corn; heat through. Season with salt, to taste.
Ladle into bowls. Top with the crumbled cheese.
Makes 6 servings.
*Chipotle chile peppers are available in Mexican markets and in some supermarkets; 1 to 11/2 tablespoons minced, fresh, or canned jalapeño peppers can be substituted.
Tip: Since ears of corn vary in size, adjust the recipe by using a total of about 1 cup of water for every 1 1/2 cups of corn. Adjust the amounts of peppers and salt accordingly.
Recipe and photograph provided courtesy of Wisconsin Milk Marketing Board, Inc.